Pro

Plan Mobile & Desktop Apps
We provide our Pro Plan customers with their own branded iPhone, Android, Windows and Mac Apps - FREE, Great design and functionality, we guarantee your listeners will be impressed.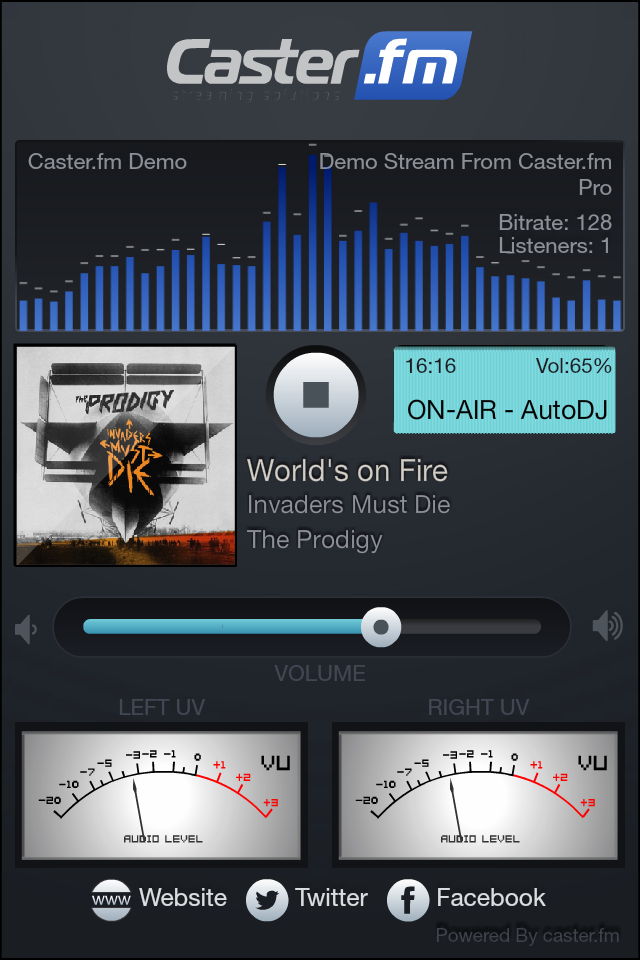 Details
Your Branded iPhone, Android & Windows Radio Player Apps
Currently Playing and Station Meta Display
Album Art Display
VU Meter
2 Types of Audio Visualization
Indication Whether Playing Live or AutoDJ
OPTIONAL: Number of listeners Display
Your own logo, splash screen and icons
Facebook, Twitter and Website buttons
This service is only available to Pro Plan customers.
How to get your apps:
If you are a costumer of the Pro Plan and you'd like to receive your own Radio Player Apps you must submit a request at the designated form.
Please make sure to fill out all the fields in the form, and attach it with a zip file containing the following graphics files:
Vertical Logo, minimal resolution: 1024 pixels wide – will appear at the splash screen of your application, and as the logo of your player
Icon, minimal resolution: 1024*1024 pixels – will appear as the application Icon
It is recommended to send the files in AI or EPS vector graphics.
Attention: graphics files are required, requests made without some or all of the files, or in unsupported format, or not according to the instructions mentioned will not be processed.
After your request has been received, and contains all the needed files the application creation can take up to 7 business days.
Once the application is ready it will be send to you via Apple App Store for Iphone and Ipads, and Google play for Android's under our developers account (to avoid registration fees).
And in addition we will send you the application setup files for Windows & Mac OS X.
Attention: It usually takes Apple up to a month to approve applications in the Iphone App Store.
Once the submission for the application has been approved/accepted to the App Store and Google Play we will send you a link to each of these to publish on your website etc and links to your Windows and Mac Os X Desktop Players as well.
Submit Your Apps Request